Carl Barks was born on March 27, 1901 in Merrill, Oregon. Even at an early age it was apparent that Carl had a flare for drawing.
At age 17, Carl embarked on his own. He was working at the Calgary Eye-Opener when he heard the news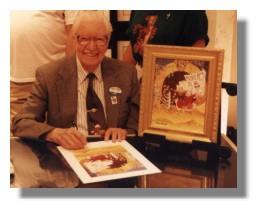 that Disney was looking for cartoonists. Carl submitted a few sample drawings and was accepted. His talents soon had him a part of the story board department. He had a hand in 35 cartoons.
In November of 1942 Carl left Disney Studio and returned to Oregon. In the mid-forties he drew stories for Western Publishing. Over the years he created Gyro Gearloose, Gladstone Gander, the Beagle Boys, and the richest duck himself, Uncle Scrooge McDuck.
Carl chose to retire in 1966, however, he certainly did not stopped working. Carl Barks remained active, painting until contracting Leukemia in 1999. He died on August 25 at age 99 at his home in Grants Pass, Oregon.
Home - Items for Sale - Items Wanted - Carl Barks
Uncle Scrooge McDuck - My Collection - Links - Contact Me